Hello everyone! We don't wanna toot our own horn here *toot toot!* happy birthday! But seriously, first of all we'd like to personally dedicate this message to all of you who came into the studio, trusted and believed in us. You, reading this right now, began ZigZag 12 months ago and you are recognised as our foundation. You understand us and what we're all about and helped shape who we are as a true independent business in Clarendon Park <-- the best place in Leicester obviously.
ZigZag's first birthday is coming up!! We all know the first birthday is the most important, that and the 100th - we fully expect a card from the future monarch when we hit that stage. There has been 365 (or is it 366?) days of hard work, determination and strong spirit from everyone here.
Let's take Tracey, our fantastic booking co-ordinator, exhibition and the best damn wisecracker in the office. Her loyalty knows no bounds and she'd do anything for anyone. Most clients who come into the studio usually recognise her, and do so with a smile on their face. This is because she is a genuinely playful person and forever makes people feel like one of her very good neighbours.
We're a sensitive bunch and will always appreciate anyone coming up to us, but a few times some lovely flowers were bought for us while doing the exhibitions! Someone definitely liked Spider(wo)man!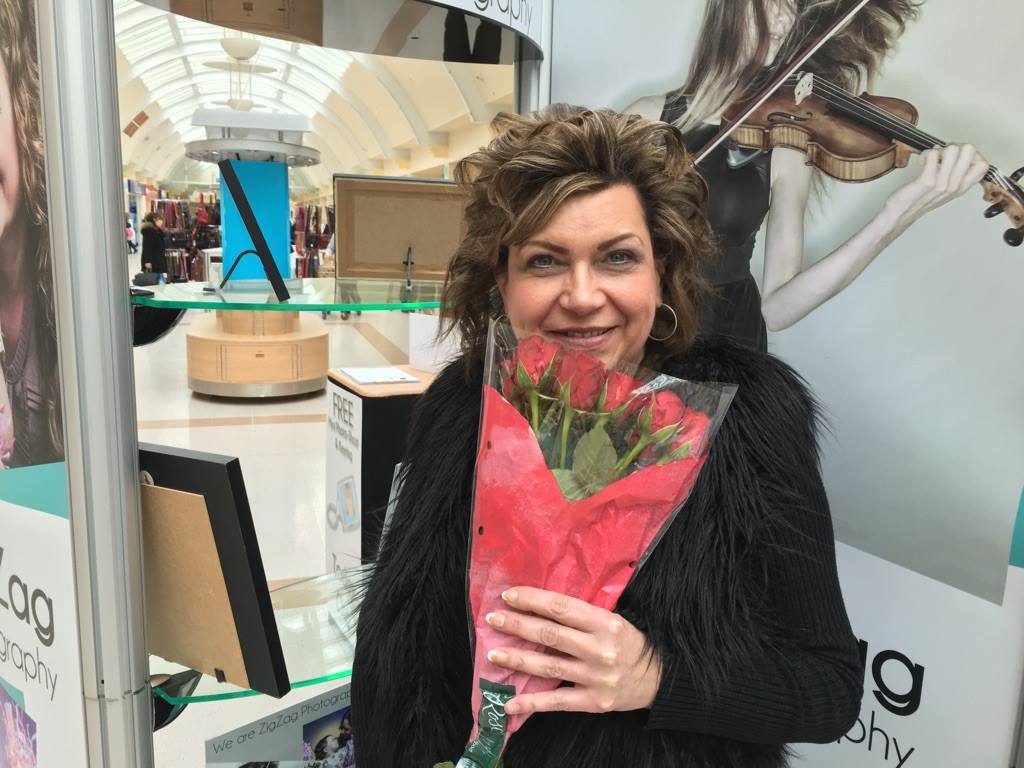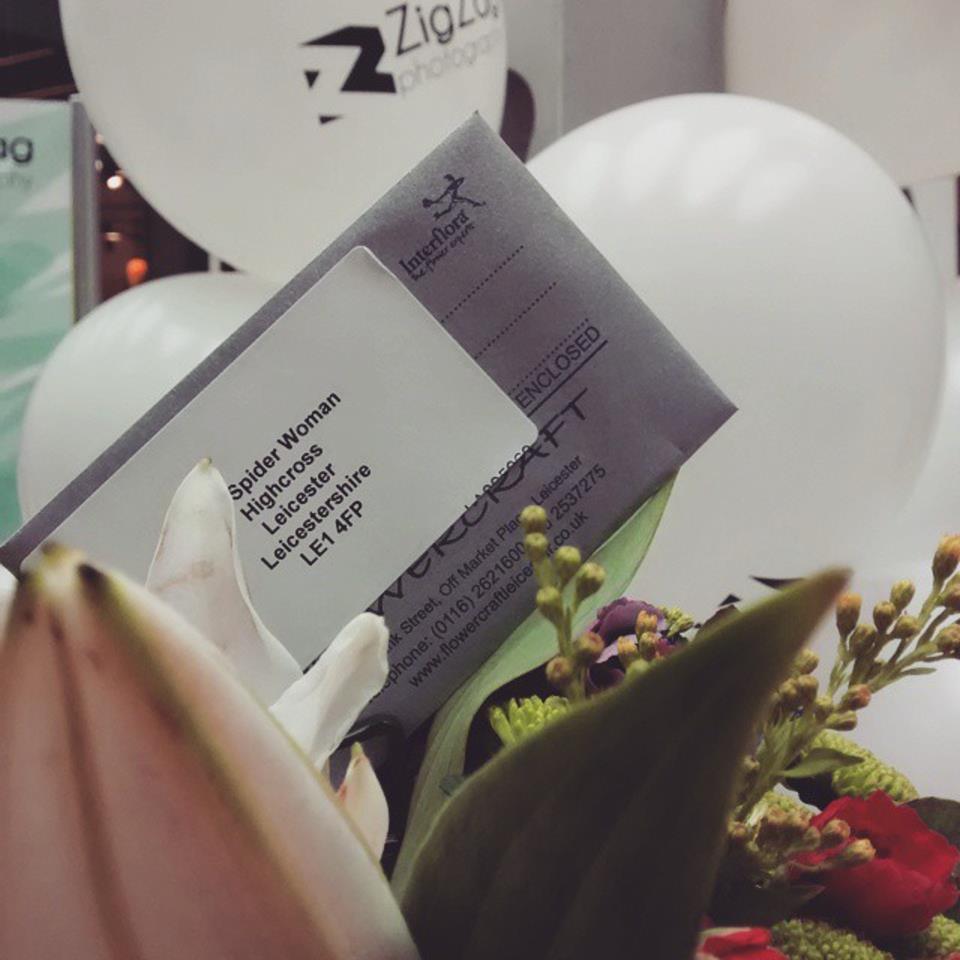 This is exactly what we're all like, here's Julie. Julie is probably Tracey's hip twin removed at birth. Once they're together on the exhibition, they're a force to be reckoned with. Their personalities and giggles heard from across Leicestershire are so magnetic, crowds often stop and wonder over to them. We don't just sell you a voucher to come into the studio, we love chatting and we'd happily do it over a cuppa coffee. Especially Julie, she sees the good in everyone and once you get Julie, you've made a friend for life. Julie is also an amazing artist, so if you'd like a commissioned piece of art - she's your woman!
This is how good she is, even we needed her to create some of the current Ziglet's backgrounds; the pirate and the ice kingdom here! Ziglets kid's adventure photoshoot wasn't even a concept in the beginning. Ziglets is an exclusive shoot for kids aged 1-8 and they're sooo MUCH FUN! Well, we enjoy doing them anyway. If you'd like to treat your kids to a Ziglets shoot, there are links above on how to buy a voucher for them. This is just two of the awesome backgrounds, we have 7 more!
We can't forget the hidden talent either! Della, our phenomenal manager, guide and friend. When we say she's one of a kind, we absolutely mean it with every breath. Her devotion to people's wellbeing is above and beyond what we consider as being kind hearted. Della is the backbone of ZigZag and if there's a crack then she is there to fill it with reassurance and appreciation. We don't tell her nearly often enough how much we admire her. When Della takes days off, we all notice her absence! Thank you for managing ZigZag, as well as us Della!
Paula deserves an entire page all to herself. We wish more people knew about Paula, and here you are, about to read all about her. ZigZag would literally not exist without Paula. For anyone who ordered a framed product, a blok or an acryllic from the biggest to the smallest - your images would have passed through Paula's talented hands to create beautifully handcrafted wall art for your home. Nothing gets put through a factory, everything, and we mean everything is made by Paula. She is one extraordinary lady and we're always thrilled when she drops off orders to our studio. An extremely hard working person such as Paula will have our ultimate gratitude for what she does and how on earth she does it all for us.
Returning to the office now, there's Jess. Jess is an awesome survivor of heart surgery! A fighter doubled up with a wicked sense of humour makes Jess an enjoyably entertaining person. She is often on the phone but her office conversations are where she really spreads her wings. We all need a Jess in the office, to remind us to not take life too seriously.
Charlie is our whizz kid in the office. She knocks every problem on the head with a hammer and is just remarkably good at fixing everything. Charlie is also expecting a baby girl soon, so of course us photographers are all over these newborn ideas in preparation! We don't know what we're gonna do without Charlie when she's at home baking, Esty-ing and loving being a domestic Goddess!!?
These ladies deserve this kind of recognition for making ZigZag Photography work, and thank you for reading here so far! It is important for us to let you know how our business ticks and here are all the wonderful members who put in hours and hours of hard work. However, with all the challenges we face, we're incredibly proud of what we've achieved so far!
Obviously we get perks - that being.... all year round photo shoots!!
We'd like to make a special mention to Igor, our boss and the only guy in the office! Always pushing us lot forward with ideas, creative training, his unparalleled enthusiasm and belief that ZigZag can and does work!!
Now here comes a very personal appreciation for Natalie, my fellow photographer. Natalie has been my equal since even before the beginning of ZigZag and the journey we've taken together feels like an awesome road trip, there's been adventure, support and inspiration. Here we are giving the place a facelift, making it all clean and presentable for you lot! We've come a long way in 12 months so please do forgive the crude quality of it all!
Natalie never distances herself away from anything and helps wherever she can in the office, the photography studio, the viewing room and even exhibitions. To get Natalie as your photographer, she'll have loads of ideas for you, and if you're a Disney fanatic, well then! She's your BFF. Her work is incredibly varied and holds a marvellously sweet style, she's particularly proud of these images;
Natalie and I have numerous training sessions throughout the year, this also counts as another perk as you can see below....
What we wanted to achieve was to show people the before and after versions of edited images. Here they are! Is anyone brave enough to let us do it to your images?
This particular training session was probably our favourite, it had everything! Sarees! Culture! And a massive wind machine. We got some amazingly creative images from Bharathi here!
We do venture outdoors sometimes too! Ever since this blog began I've had access to bloggers all over Leicester. One evening last year I was part of a blog gang and we made up several Christmas packages for each and every one of them!
There was amazing insight to what they all did and specialised in. Lianne's blog is based on parenting advice and beauty. She came into Ziglets with her young lad Taylor! And she wrote a rather lovely article about her Ziglets experience with us. The link to her wisdomous blog is here at The Brunette Says.
The link to her gracious words of her Taylor's Ziglets photoshoot can be found here! Taylor's Ziglets! Here he is below sporting his wicked Leicester kit!
The one thing we've been able to do as ZigZag from the very beginning is social media, and it's been AMAAAAZZZZZZING!! What a learning curve Twitter has been, but we like to think we've interacted with neighbouring businesses and the locals alike with it! Instagram is just the best, we love how it looks and what we can upload and to look at other people's images is just incredibly inspiring! We've had Instagram for a long time, but if you would like a nosy at our page, the link is right here!
Like we said before, we're alright at getting outside and experiencing the sunshine, here's Tracey throughout the year doing exhibitions at the Highcross, Oadby racecourse, ArtBeat Festival at Clarendon Park, Fosse Park, Nuffield gym, Beaumont Leys Shopping Centre, Next headquarters and many other places!! We ran a competition last year with the local ArtBeat Festival.
One lucky winner below got £500 worth of ZigZag portraits from a Beaumont Leys mother's day competition we ran! We do all kinds of competitions like this during the year so keep an eye out on our blog, Facebook and Twitter page!
Here is little Ava, the winner of the Beaumont Leys photo competition. The more likes she got on their shopping centre page, the better her chance was of winning. Well, with numerous comments, 59 shares and 226 likes...... Look who won! And look at her in the photoshoot! She was fantastic to have in the studio!
It is absolutely fantastic working in Clarendon Park, there is such an amazing sense of community. Even walking to the shops we recognise the locals and say hi which is just lovely! Every year Clarendon Park throw a Christmas street fare which gets all the businesses outside and showing off their stuff. We were there with our own stall braving the winter weather and ended up filming a very pleasant event! Check out our video here!
If you've made it this far, we thank you once again for taking your time to read all about us, our history from the last 12 months and our gratitude to you all for supporting us and actually making ZigZag possible to help you create wonderful family portraits, memories (as cheesey as that sounds it's also true!) and lasting pieces of art for your whole family to love for years to come!! This first year of being ZigZag has been extremely exciting, it's definitely kept us on our toes. We just had to celebrate with cake, so let us show you what we had as a 1st birthday treat!
For making it this far...... We're now going to reward you with a FREE ZIGZAG VOUCHER!!!! It's here on our Facebook page!! Click the link to claim it and that baby is all yours! So if you love what we do and you think you might want some nice images of the kids, your grandparents, engagement, newborns, family and even pets, there's a free voucher waiting to be claimed by you!!!
Once again, thank you very much everyone!!!!!!!!!!!!!!!!!!!!!!!!!!!!
The ZigZag team and Sammy who totally wrote this awesome blog.